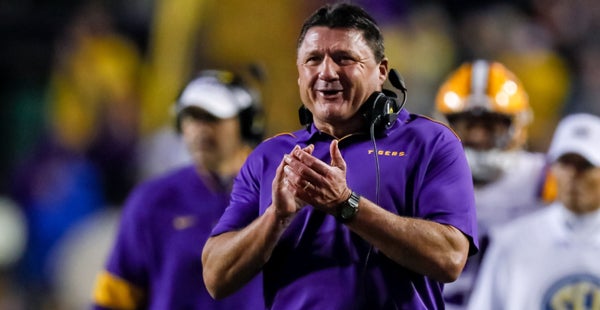 LSU head football coach Ed Orgeron met with the media on Monday to discuss the Tigers' season opening game against Mississippi State. The Saturday match-up with be the 114th meeting between the two teams. The Bayou Bengals have won four of the last six in the series including a 36-13 decision in Starkville last season. LSU has been ranked in the AP Top 25 18 straight times when they have teed it up against the Bulldogs.
Orgeron covered a variety of topics during his game week press conference. LSU has had several players opt out for the season. Those losses on top of graduation and early declarations for the NFL draft will force some new faces in to action. Enclosed are Orgeron's comments about Mississippi State.
General observations about the Bulldogs: We're going to have to play very well. Mike Leach has done a very good job wherever he's at with the air raid. He has some tremendous offensive weapons at Mississippi State. One, Kylin Hill, one of the backs that I had some of the most respect for in the SEC last year, a very dangerous back and especially in the spread offense. We've been studying his offense at Washington State, and his running backs could hit the hole, could bounce it out and make people miss. Then we're studying K.J. Costello, transfer from Sanford. We hear he's going to be the starting quarterback. Whether he's the starting quarterback or not, we don't know; wait till game time, but I think that's going to be him, so we've been studying him. A very good passer, very knowledgeable, very experienced.
On defense, Zach Arnett's coming from San Diego State. Very impressive numbers. Gave up 12.7 points per game, was second in the country. He was second in a couple of categories. I think he had a Top 5 defense overall. And as we know, Mississippi State always has big, agile defensive linemen; two outstanding linebackers, safeties that are going to hit you, corners that are going to cover. I have a lot of respect for Mississippi State. We've played them a bunch. Those men are very tough. They love football. They're going to be very well coached. So it will be a tremendous challenge for our football team.
(What's happening with the Mississippi State Bulldogs? Make sure you are in the loop — take five seconds to Sign up for our FREE Bulldogs newsletters now!)
On preparing for this week's game: I think Mississippi State was maybe the eighth game on the schedule. And we had already game planned them. So you gotta look at Washington State for scheme on offense. You gotta look at San Diego State scheme for defense, and then you gotta look at Mississippi State for personnel. So you're really scouting three different teams. So it's three times the work. And obviously Coach Leach has done a great job wherever he's at. He presents a challenge. But I think our guys have a pretty good handle of what they're going to do on offense, what they're going to do on defense and special teams. But just like any first game, there's going to be in-game adjustments. There's going to be new stuff. There will be new plays. There will be new defenses. There will be new personnel. We just have to do a great job of adjusting on the sideline.
_____________________________
LSU and Mississippi State will renew the series at 2:30 PM this Saturday at Death Valley. CBS will handle the broadcast responsibilities. Tickets have all been exhausted, but perhaps may be available through third party vendors. LSU is more than a two touchdown favorite in the game. Mississippi State last won in Baton Rouge in 2014 as Dak Prescott led the Bulldogs to a 34-29 victory.